Enter and Work in Confined Spaces (1 day) MSMPER205 / MSMPER200
Unit of Competencies:
MSMPER205 - Enter Confined Space
MSMPER200 - Work in Accordance with an Issued Permit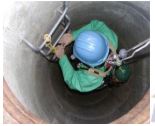 Cost - With CITB: $185 - Without CITB: $330
Our 1 Day Course specifies competency required to work in a confined space (enclosed or partially enclosed) for the purpose of carrying out work or inspections. It includes the minimum criteria for competency assessment. This unit includes entry and exit procedures, assessment of associated risks and how to operate safely in a confined space which is at atmospheric pressure during occupancy.


Enter and Work in Confined Space (1 Day) Information Sheet
Course Dates
Please select your course date.