Enter Confined Space with BA (2 Days) MSMPER205 / MSMPER200 / MSMWHS217 / MSMWHS216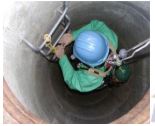 Cost - With CITB: $175 - Without CITB: $475
Our 2 day Confined Space Course includes entry and exit procedures, assessment of associated risks and how to operate safely in a confined space which is at atmospheric pressure during occupancy including the use of breathing apparatus.


Enter Confined Space 2 day course Information Sheet
Course Enquiry
You can send us a message with the form below to get more information on Enter Confined Space (with BA)
(2 Days) or details on alternate courses if there are currently no dates available. You may also make a Corporate Enquiry.