Dogging (DG) (5 Days) CPCCLDG3001A
Unit of Competency: CPCCLDG3001A - Licence to Perform Dogging.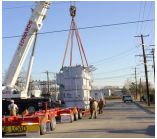 Cost - With CITB: $515   - Without CITB: $1485
Our 5 day Dogging Course is to provide the participant with the skills and knowledge to undertake Dogging activities at work in accordance with Safe Work Australia's National Standard for Licencing Persons Performing High Risk Work.


Dogging Training & Assessment Information Sheet
Course Dates
Please select your course date.