Elevated Work Platform (WP) Experienced (1 Day) TLILIC0005 High Risk Licence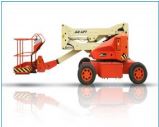 Unit of Competency: TLILIC0005 - Licence to Operate a Boom Type Elevated Platform (boom length 11 metres or more).
From 1st July 2016, One day EWP Courses are not eligible for CITB Funding.
Cost - No CITB Funding: $520
Additional Fee payable to SafeWork SA for processing of licence
This course is designed for students that hold a Yellow Card for Boom Lift (up to 11m) ticket or have had experience using a Boom Lift. The participants are required to complete an experience declaration prior to attending this course.
Students must read the training manual and complete homework questions. Failure to bring the homework questions on the day will result in exclusion from the course. Refunds will not be applicable.


EWP (above 11m) Experienced Course Info Sheet
Course Dates
Please select your course date.