Enter and Work in Confined Spaces (inc Gas Test) MSMPER200 / MSMPER205 / MSMWHS217
Unit of Competencies:
MSMPER205 - Enter Confined Space
MSMPER200 - Work in Accordance with an Issued Permit
MSMWHS217 Gas test atmospheres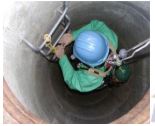 Cost - With CITB: $250 - Without CITB: $395
This course achieves the competency required to work in a confined space (enclosed or partially enclosed) for the purpose of carrying out work or inspections. The units in this course cover persons required to enter confined space under an issued permit for any purpose including maintenance, cleaning, inspection or other reasons, who will be required to wear breathing apparatus as part of their normal work, and who need the skills and knowledge to test the working atmosphere using elec-tronic test apparatus to find out if it is safe for the work to take place.


Enter and Work in Confined Space incl Gas Test atmospheres (1 Day) Information Sheet
Course Dates
Please select your course date.