Vehicle Loading Crane (above 10m tonne) (CV) (4 Days) TLILIC0024 High Risk Licence
Unit of Competency: TLILIC0024 - Licence to Operate a Vehicle Loading Crane (capacity 10 metre tonnes and above)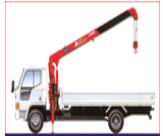 Cost - With CITB: $1275 - Without CITB: $1655
Prerequisite - From 1st Jan 2023, Dogging High Risk Work Licence will be required for this course.
This course is to provide the participant with the skills and knowledge to operate a Vehicle Loading Crane (CV) in accordance with Safe Work Australia's National Standard for Licencing Persons Performing High Risk Work.


CV Vehicle Loading Crane (above 10m tonne) Training & Assessment Information Sheet

Crane Licence Pathway
Course Dates
Please select your course date.